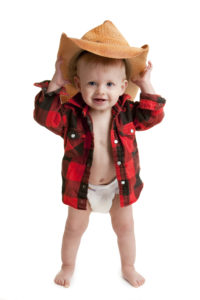 We are celebrating the 10th Anniversary of the KREM 2 Diaper Drive! With the help of KREM, Laura Papetti, our sponsors and many volunteers, the drive has collected over 1.3 million diapers for the Nursery since 2008. Providing diapers and wipes to area families free of charge is important to us as there is correlation between financial stress and incidents of child abuse. It can cost a family upwards of $1,000 a year to diaper just one child and over half of our families report a yearly income of less than $5,000. Having access to a free emergency supply of diapers can ease the burden of trying to survive until payday and can prevent a child from sitting in a soiled diaper for too long.
There is no disagreement that using cloth diapers for your child is a commendable choice. It is good for the environment and can save your family money in diaper costs overtime. It is also a way of diapering that requires a fair amount of time, resources and planning that many families that use our services do not have.  For example:
-Many of our working families need childcare while they're at work and the majority of childcare providers require parents to provide a daily supply of disposable diapers. Rarely does a childcare provider allow parents to bring cloth diapers.
– Nearly 100% of families served at the Nursery live below the federal poverty level and do not have frequent access to washers and dryers. About 50 diaper changes a week is a reasonable yearly average for one child and that is a lot of spraying, washing and drying to plan for when you don't have your own personal laundry equipment or the funds to pay for a pick-up and launder service.
-Close to 15% are in transitional housing and do not have the capability to launder their child's diapers on a regular basis or keep a stash of all required diapering items. Remember there are costs associated beyond just the cloth diapers themselves. Detergent, utilities (water/electric), laundry equipment, prefolds, covers, pins/Velcro, reusable cloth wipes, diaper pails and reusable liners are also required to successfully diaper your child with cloth.
We applaud any parent that has the dedication and resources to cloth diaper their child. Ultimately it comes to what is best for the family and their child. We believe every parent has a right to choose what diapering method makes the most sense for them. Vanessa Behan Crisis Nursery's mission is to prevent child abuse and neglect and support to strengthen families. The KREM 2 Diaper Drive benefitting the Vanessa Behan Crisis Nursery is a great way to keep our area children in clean diapers and help us continue to help parents in times of stress. A healthy family means a healthy Inland Northwest.
To sign-up to volunteer for the 2018 KREM 2 Diaper Drive, click HERE.
To make a monetary contribution, click HERE.